maybe i've mentioned this before, but andrew and i LOVE our home. since buying our little cottage in october of 2012, we've made a lot of progress in making it our cozy getaway in the city. if you've been following for a little while or if you know me [in real life] you know that i love a good deal. it's a constant battle: wanting our home to be picture perfect and not wanting to break the bank. decorating a home on a budget takes time. finding good quality pieces that look way more than their price tag takes time too. i've compiled a short list of recent [and future] budget buys for the home that i love and hope you will too!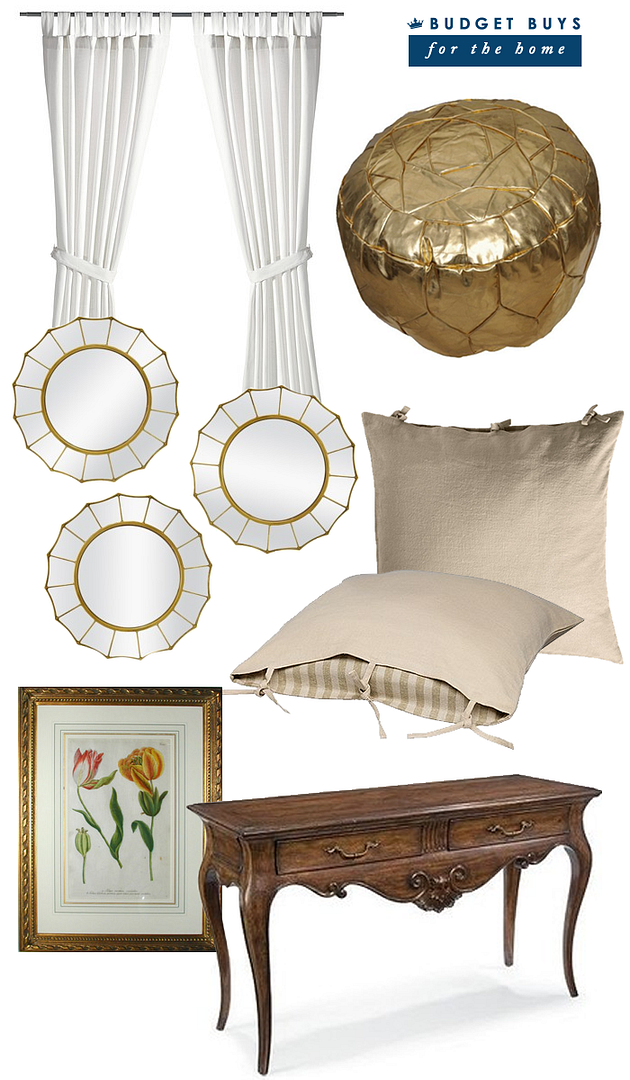 curtains  |  if you visit our home, it's no secret that we love ikea. what i love even more is that they have some traditional décor options that are very wallet-friendly! we have 2 sets of the lenda curtains [white and beige], and i love them both! the longer length is perfect for a high curtain rod and gives a sophisticated and finished look to any room.
pouf  | in the past 2 months, i've been working fervently on the 3rd bedroom & office. the black/white/gold color scheme is a little more modern than the rest of our home, but we [andrew included!] love it! for christmas, i included this morroccan pouf form on my wish list and, what do you know?, santa [my lovely in-laws] came through! for $38, you can buy the pouf online and the filler for an additional $15 at your local sewing shop… or if you're me: use old towels/throw pillows, because i'm lazy like that. as much as i love a designer pouf, i'll take the $200+ discount!
mirrors  |  mixing contemporary with traditional is one of my favorite ways to keep our home's style up-to-date. the gold sunburst mirrors at target would look great over a bed [horizontally] or in an entryway or hallway [vertically]. this may just be my next budget buy!
pillows  |  again, with the ikea purchases. i LOVE pillow covers. my taste has changed a lot in the past years, and i have a surplus of throw pillows that i don't love so much. these pillow covers are great [and budget friendly] because they're durable, washable, and inexpensive. ikea for the win!
prints & furniture  |  never underestimate the value of craigslist, estate sales, and hand-me-downs. our house is full of furniture that, at one time, was left unwanted. usually all it needs is a coat of paint and a little love! several items were handmade and back to being as good as new – plus i love that these pieces add even more character in our little 1940's home!
WHAT'S YOUR FAVORITE BUDGET BUY?
[FOR THE HOME]