so… if you follow me on instagram, which you should (lauraleighwyatt), you know that i scooped up a super cute new planner recently. i first discovered May Designs a while back while perusing my favorite stationery store in charlotte, and i was blown away by their vast collection of adorable patterns, colors, and monograms.
after hearing several great reviews, i decided to start off 2013 with one of my own. after about 3 hours of deliberation, i settled on my design and placed my order. to my surprise, it arrived quicker than i expected – just an added bonus!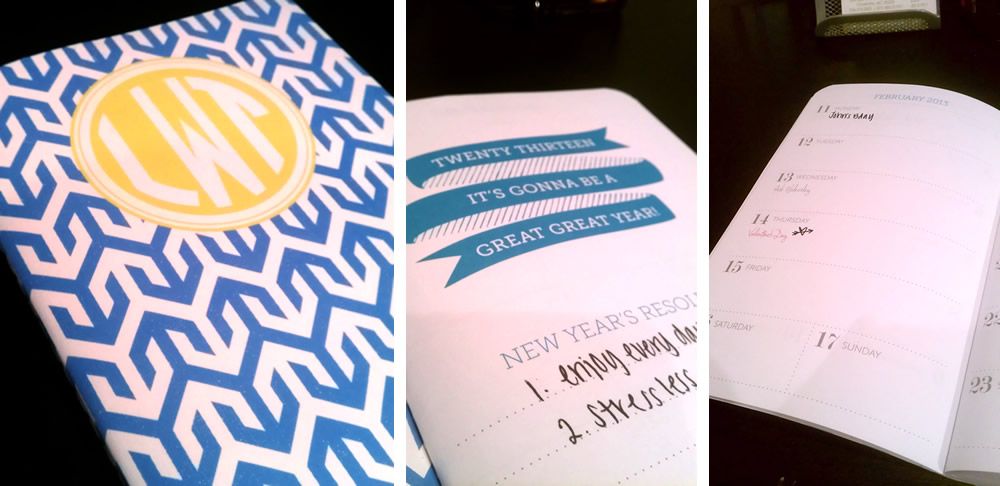 you can choose from several different inserts (meal planning, fitness, or a blank notebook), and as you can see, i went with a monthly agenda with the week-at-a-glance insert. the book itself is thin – no need to carry around a bulky planner, and this works perfect for me. personally, i don't use my planner as a catch-all, and i don't have a crazy jam-packed schedule to need 3 pages per day with a timed agenda for each.
i've had it for over a week, and i'm still in love! my favorite part (aside from the fun design) is the size, my past agendas have been too small or too large. this one, coming in at 8.5" x 5.5", is perfect. my handwriting doesn't have to be microscopic to fit in the boxes, and it doesn't weigh my purse down (like the other 17 things i have in my bag).
want to hear the BEST news? you can get one too! today, i'm hosting a giveaway for a free May Book of your choosing! the rules are simple:
all entrants must follow "our life in the queen city" – this can be through google, bloglovin, feedburner, etc.
check out all the options and leave a comment with your favorite color/design combo for 2013
for addition entries, feel free to tweet about this giveaway, like OLQC on facebook, and like May Designs on facebook.
this giveaway will end friday night at midnight! thanks SO much, and GOOD LUCK!