i'm really excited about my post today! i feel asleep last night thinking about this upcoming occasion, and figured "take me there tuesday" would be the perfect opportunity to do some additional daydreaming and get even more excited about it!
andrew and i have 2 great friends getting married the first week in august in roanoke, virginia, and of course, all i've got on the brain is "what am i going to wear?". i'm sure andrew will be excited to find out that i'm thinking of wearing a dress i already own! here's how i'm thinking of styling it: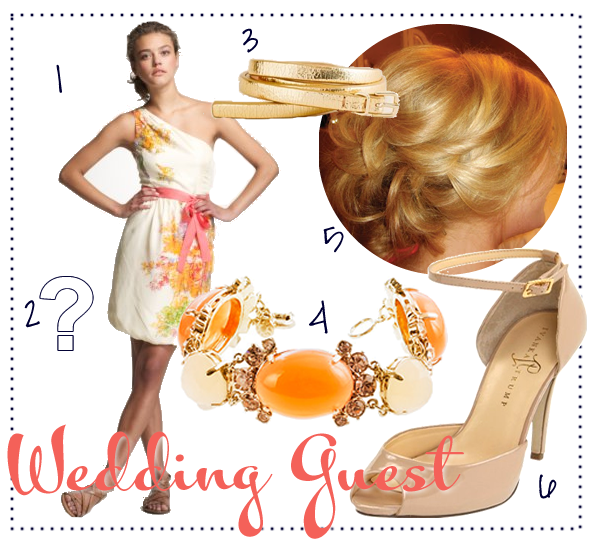 1 | 2 | 3 | 4 | 5 | 6
1 | older dress from the j.crew outlet. i believe it's called the bridget dress in the "poppy" print. i love the pretty colors in it and how it looks like the flowers have been painted right on the dress. i wore it to my friend, emily's wedding almost 2 years ago. (happy almost anniversary, girlfriend!)
2 | cute clutch that hasn't been found yet! send ideas my way, s'il vous plait!
3 | skinny gold belt. i'm wearing more of a mauve color in the pic above, buuut i seemed to have "misplaced" it, so we'll just go with gold for the sake of convenience! no link necessary; you can find these almost anywhere nowadays.
4 | i'm not much of an orange gal, but i really like the style of this bracelet from j.crew. i need a little extra color, so my ensemble isn't so champagne/gold - not to be confused with ivory/white. don't think the bride would approve!!
5 | since my hair is longer now *yay!*, i think i'll attempt a low-maintenance updo - nothing too fancy! i'll channel my inner pink lou lou, and see if i can pull it off. maybe a trial run beforehand is in order? if that doesn't work out, i'm sure i'll stick with my old standby – big curls and volume!
6 | lastly, ma shoes! i bought these shoes back in october, and have gotten SO much use out of them. they've got a little more spunk than your usual nude pump, and i feel ultra fancy in them! i got them through ebay (big shocker, i know!), and they're pretty uncomfortable after a couple hours. pain is beauty, right? they're higher than they look in the picture, so i'm sure that plays a factor in their [un]comfort. maybe i'll try some of those foot petal pad, things?
so that's where i am, in my mind, today! getting ready for a fun night out with good friends and some dancing with my husband!
where's this tuesday taking you?
you wanna link up? just grab the text in the box above and paste into the html source section of your blog post! got it? leave me a comment below if you linked up, so i'll know if y'all like this whole idea!