finding the perfect dress is hard. especially when everyone and their mother wants the same one. i saw a dress on a blog post about 2 months ago and HUNTED IT DOWN directly after - only to get the runaround and 3 weeks after paying, told that it's going to be another month. "please cancel my order." bad customer service just doesn't fly with me. i digress. pinterest has created a monster when it comes to shopping for cute clothes. one adorable outfit gets pinned, and 2 weeks later, every sorority girl this side of memphis wants it. i've got a little strategy i want to share, and although it may not be the most efficient process, it ended up working for me...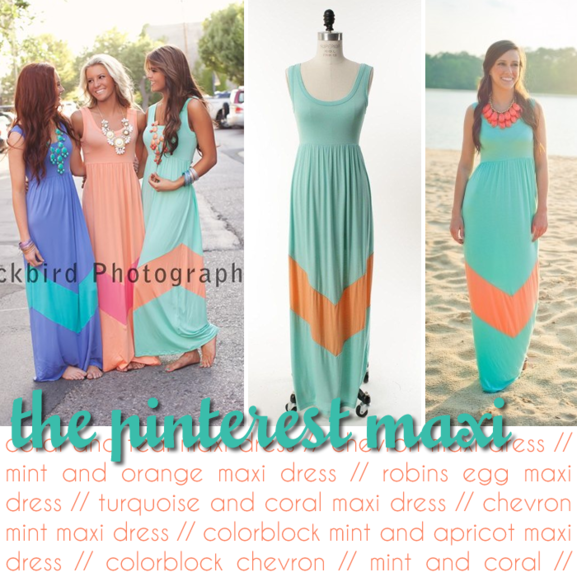 1 | 2 | 3
above is the dress for the search. aside from hunting down every pin of the dress on pinterest - which inevitably will bring you to the same [sold out] boutique, i turn to google.
option 1: i come up with as many descriptives as possible and google image search them one after another - in this case: coral and teal maxi dress // chevron maxi dress // mint and orange maxi dress // robins egg maxi dress // turquoise and coral maxi dress // chevron mint maxi dress // colorblock mint and apricot maxi dress // colorblock chevron // mint and coral // ...the list goes on and on. if the image is the dress in question --> click it! if you're lucky, it's IN STOCK at a cute boutique that offers free shipping! double score!
option 2: another successful, little known fact, is the drag and drop option for google images. copy a photo of an item and save it to your desktop. open google and click on the image search tab.
click and drag the saved image from your desktop to the search bar. google will then upload your image and search based on a number of factors: the image itself, the filename, and other awesome stuff that google can do…. with any luck, your search results will look like this:
and go on and on with places you can buy/find the dress! THIS IS HOW I GOT LUCKY! i was able to find it in multiple places and get the best deal without breaking the bank. and because i'm so nice, i'm sharing a few places that (as of 10:30 am on wednesday, july, 12) still have the dress IN STOCK:
p.s. it's also no secret amongst my friends that i love to shop on eBay as well. some boutiques sell on eBay, and it's NEW clothing, so don't be afraid to try the keyword search route there!
do you have a method to finding those hard-to-find in-high-demand items? let me know your secret!
happy hunting!