i hope everyone had a wonderful, relaxing weekend! i definitely did! i wanted to fill y'all in on a little recipe i tried for a jewelry cleaner. it's really quick and i had all of the ingredients in my pantry already!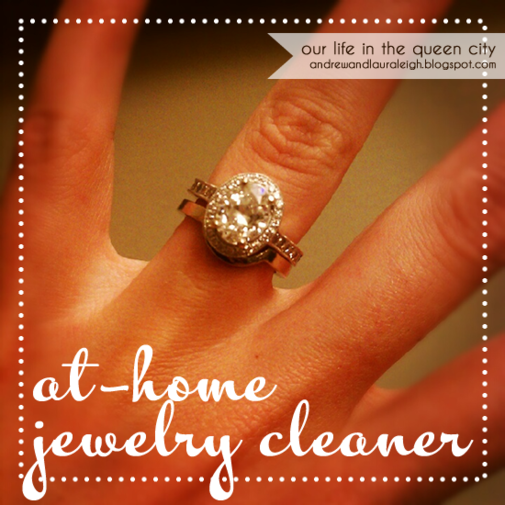 at home jewelry cleaning solution
1 cup of hot water
1 tablespoon salt
1 tablespoon baking soda
1 tablespoon gentle dishwashing detergent
aluminum foil
simply warm your cup of water in the microwave for 1-2 minutes -- i just got some piping hot water from the keurig. line the bottom of a glass cereal bowl with aluminum foil, add your water, salt, baking soda, and detergent. mix around until the ingredients are combined. now's the time to let your jewelry soak for 10 minutes and let the magic work. rinse in cold water and i even brushed mine with an old toothbrush for extra shine! voila! like new!
fyi. once the ingredients start reacting it puts off an old-egg sulfur smell, so don't do this if you're having company over soon! hah! it's not too potent, though!
don't have time to do this? i love the sparkle that toothpaste and a quick scrub gives my rings!
disclaimer: I am NOT responsible if you mix these wrong or if your jewelry, for whatever reason, tarnishes. it worked perfectly for my white gold and diamond engagement ring, pearl earrings, and david yurman silver jewelry. hope it does for you too!
don't forget to stop back by tomorrow, 'cause i'm bringing back take me there tuesday!