it's tuesday! for the 2nd week in a row – i'm hoping you'll link up with me for my new series, "take me there tuesday". here are the "rules" again just in case you missed last week's: "every week, a new getaway - whether it's a vacay spot you frequent, a dream trip you'd like to take, or even a new restaurant you want to try". let's go!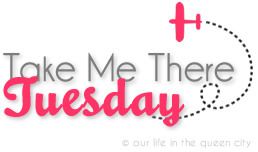 i'm so excited! if i could fast forward to friday, you bet i would! andrew and i are heading back down to asheville, north carolina for a fun weekend away! you might remember asheville from this post way-back-when.

image via
this gorgeous town is the location of america's largest home, the biltmore, but since we've seen what there is to see there, we'll be exploring some other venues this trip. what i'm most excited about is our saturday night activity. we've got 2nd row seats to see funny man, aziz ansari. if you haven't seen his stand up – go now – or, well, later… when you're at home… and away from the workplace and away from little ears. since i have a really immature since of humor, he makes me laugh out loud every time.
we'll be staying in downtown asheville, hitting up the local breweries and sidewalk cafes, and maybe if i'm lucky, a little shopping as well! i really can't wait!

image via

image via

image via
so, tell me…
where is this tuesday taking you?