oh la la! i just can't resist a challenge. taking after my best gal,
alex
, i'm going to make my best attempt at the "plenty to be thankful for" blog challenge. i'm glad to catch this on the first day – maybe it'll give me that extra push i need to go all the way! even though i'm not participating in the blog swap, this'll be good to get me in the habit of consistent blogging!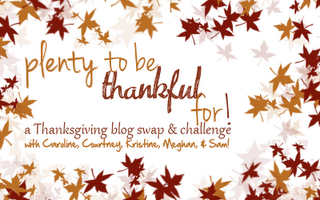 todays theme:
Today, I'm thankful for my GUILTY PLEASURES!
1
| in my opinion gossip girl is a way better option than teen mom or anything vampire. plus, the fashion is way better! i may or may not have the past 2 seasons already on my amazon wish list.
2
| this goes without explanation – because if you're reading this right now, you probably have an addiction to pinterest too!
3
| i could stay on youtube for HOURS. makeup tutorials, music covers, and funny kitties consume my lazy sunday afternoons.
4 | sleeping in.
5
| sweet tea. preferably mcalisters, but bojangles, mcdonalds, or panera will do.
6
| candy corn. ONLY brach's. nothing else will do! lucky me – i'm still polishing off my bag leftover from halloween!
i hope everyone has a wonderful week! – remember to be thankful!